PhysioRehab2u is a clinic based physiotherapy service in Wilmslow with a domiciliary service if required.
Welcome to 'PhysioRehab2u'.
Karen McLaughlin MCSP, the founder of PhysioRehab2u, is a Chartered Physiotherapist with over 20 years of experience.
Karen is a specialist physiotherapist in Musculoskeletal pain (soft tissue injuries, back, neck and other joint pains) and Orthopaedics including surgery, joint replacements and trauma.
What to expect at your appointment:
As I am a Chartered Physiotherapist you will be given a thorough assessment, in line with CSP guidelines, to establish your needs and then an individual treatment plan will be devised and especially made for you. This may involve hands-on treatment, advice and then an exercise programme will be developed and tailored to your specific needs with a holistic approach in mind. This means I will look at you from head to toe to establish dysfunctions within the body which may be contributing to your pain/injury/instability.
For those who are unable to come into clinic, for example after an operation/major trauma or for elderly patients, I can offer a home visit. This service may benefit those who need to start rehabilitation at home and then progress to attending the clinic once able to walk or drive again.
For elderly patients a home visit may be more appropriate. I can assess the home environment for potential dangers of slips, trips and falls. A home exercise programme can then be devised so elderly patients can continue to do their functional exercise programme within their own home environment and familiar surroundings.
'PhysioRehab2u' is based in Wilmslow and the clinic address is PhysioRehab2u, Wilmslow CAM Clinic, 6c Hawthorn Lane, Wilmslow, Cheshire, SK9 1AA.
---
CORONAVIRUS INFORMATION
Following the announcement from the Government and guidance from my professional body, The Chartered Society of Physiotherapy (CSP), we are now able to offer some face to face treatments again.
We will be operating a virtual-first policy whereby you will be offered a video or telephone consultation first. If it is deemed necessary to provide face to face treatment then we will undertake a risk assessment to see if criteria are met for a clinic consultation and a separate consent form will be completed.
Criteria for patients who may be offered a face to face consultation are those who are:
Deemed urgent e.g. have had a recent fracture or trauma.
Experiencing severe or worsening symptoms which are not responding to exercise and advice.
Have symptoms that may lead to a hospital admission, GP consultation or A&E attendance.
Procedure for attendance
If you fit the criteria for a clinic consultation the process will be as follows:
You will be telephoned the day before your appointment to check that you and all members of your household do not have any symptoms of COVID-19 or have been in contact with anyone who has displayed symptoms of COVID-19.
A risk assessment will be completed and we will also explain the risks of face to face treatment i.e. as the treatment may involve prolonged physical contact in close proximity it may carry a slightly increased risk of disease transmission including COVID-19. We will minimise this risk with rigorous hygiene standards and PPE (personal protective equipment).
If you still wish to proceed with the clinic appointment the consent form will indicate that you are happy to proceed and understand the risks.
On the day of treatment should you or any member of your household display any symptoms of COVID-19 (temperature of 37.8C or above, continuous cough, loss of smell or taste) then you MUST CANCEL your appointment and rebook 14 days thereafter.
Please arrive for your appointment at the precise time as we have allocated only one chair in our waiting area to adhere to social distancing guidelines.
We request the use of alcohol gel provided on entering and leaving the clinic.
We will don PPE for each session and this will include a mask, apron and gloves.
Treatment time will be prompt to minimise contact and allow for thorough cleaning of the treatment area and communal areas in between each patient, wash hands as per guidelines, change PPE and to ensure that patients do not crossover at any time. We therefore ask for patients to leave promptly when their session is complete to allow for this procedure to be completed.
Therapists will take their own temperature each day to monitor for any change and will cancel their clinics should any symptoms of COVID-19 be displayed and follow Government guidelines accordingly.
Payments should be made by contactless or BACS where possible.
Your health and well-being are of utmost importance to us therefore we must conform to the strict Government guidelines to keep everyone safe.
We have carried out a thorough COVID-19 risk assessment and shared it with all other therapists in the building and have strict cleaning, hand washing and hygiene procedures in place to adhere with Government guidance.
DOMICILIARY VISITS
A separate COVID-19 risk assessment has been completed for domiciliary sessions. As the majority of home visits are to those deemed most vulnerable and therefore at highest risk we will only visit a patient in their home if it is absolutely necessary. We are unable to attend to patients who live in care homes at present. A virtual-first policy will apply to all domiciliary patients too.
We are only able to see those at home who are:
Urgent, had a recent fracture/significant trauma.
At risk of a hospital admission due to decline (reduced mobility, increased pain, significant risk of falls) and the appointment cannot be completed remotely.
Recently discharged from hospital (COVID-19/surgery/illness) and have not regained their pre admission level of mobility.
Following a risk assessment for all family members living at the household, if face to face contact is deemed appropriate a pathway will be followed as per Government and CSP guidelines.
PPE (mask, apron, gloves) will be worn for all visits and the minimum time required to carry out treatment will be given to reduce contact.
Patients and family members living at the household will be required to complete a pre treatment screening and consent form.
Each session will be assessed on itís own merits and the benefit of the treatment must outweigh the risk of any transmission of Coronavirus for it to proceed. Treatment frequency will be reduced to the lowest level possible to achieve mutual goals but keep everyone safe.
If you wish to discuss treatment options then please contact me.
Karen Mclaughlin MCSP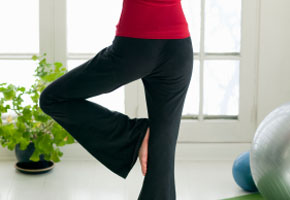 Conditions we treat
Services & Treatments
Get in Touch
07976 980 588
Cheshire